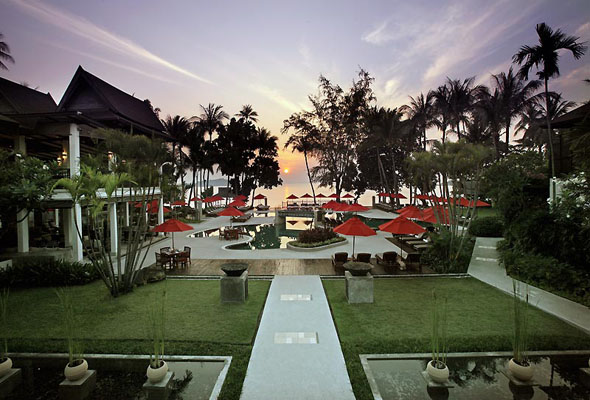 Honeymoon Hotel Review – Amari Palm Reef Koh Samui Chaweng
Quiet without being isolated.  
Amari Palm Reef Resort Koh Samui is arguably the most famous resort in Koh Samui.  This hotel is situated on the main beach of Chaweng, a stone's throw from the vibrant town's shops and restaurants.  It is however one of the last hotels on the strip so away from the noise and chaos.  Due to its location the guests that stay at Amari Palm Reef Resort Koh Samui benefit from only being a short walk away from Chaweng, whilst staying in a calm area.   
If you are looking for a romantic hideaway in complete isolation then Amari Palm Reef Resort Koh Samui is not the hotel for you.  The Amari Palm Reef Resort Koh Samui is suitable for people looking for the best of both worlds.  This hotel offers its guests modern yet relaxed luxury whilst being in close proximity to shopping and a vibrant night life.   
At the Amari Palm Reef Resort Koh Samui there are 187 Thai-style Superior and Deluxe rooms set in tropical gardens and overlooking the beach and 8 sea-facing Junior Suites.  The hotel rooms are separated into two "blocks" of which one is very close to the pool which is particularly convenient for guests requiring use of the pool.  We recommended you reserve a room in this block prior to arrival.  
The facilities at this hotel are numerous and extensive.  The resort boasts two swimming pools to cool off in, one of which has a spectacular view overlooking the ocean.  This swimming pool is located right next to the beach sand, 20 meters from the sea water, with immediate access to the beach.  Other facilities include a Fitness centre, spa, PADI dive centre, Foreign Exchange, and Babysitter all at hand to make your stay at this hotel pleasant.   
The restaurants at the hotel are excellent and include the Merante restaurant which overlooks the sea, and has one of the best buffet breakfasts in Thailand!  Inside the hotel is a well reputed Italian restaurant called 'Prego' where you can find homemade pastas and gourmet pizzas.    This restaurant features an open-air kitchen where you can watch Italian chef Marco do his magic.  The service at both these restaurants and in fact throughout the Amari Palm Reef Resort Koh Samui is excellent.  The members of staff at this resort really do try to make you feel at home.  
One of the benefits of being at the Amari Palm Reef Resort Koh Samui is that you are free to stroll up the beach and observe and even participate in a dinner at the many romantic restaurants with candle-lit tables on the sand.  Here you can find superb food in a magical setting where you will find it is difficult to tell which moon is the real moon and which moon is a reflection in the dark sea at night.  
Amari Palm Reef Resort Koh Samui offers the best of both worlds – tranquility whilst being superbly located near the busy part of vibrant Chaweng.  What more could you possibly ask for?  
Amari Romance Package  
From : 31,921 THB
3 nights in Superior Room including breakfast.
Extra Nights at 10% additional discount on Internet rates
Romance often escapes us during the course of our busy lives. Why not rekindle the flame of love with our Romance Package? Imagine a worry free holiday with intimate dinner, spa session, and all the little extras that help you and your loved one feel at ease. Join us on a journey of romance, surrounded by the beauty of a tropical island paradise. You should book now and secure your spot – for a fantastic price – on internationally renowned Samui  
Check Rates and book this hotel with Agoda.com, a Priceline (NASDAQ: PCLN) company.