1. HINTA HINYAI (Grandfather and Grandmother Rocks)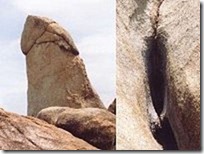 Nestled on the edge of the breathtaking turquoise seas are some strangely beautiful rock formations known as the 'Grandfather and Grandmother rocks'. These rocks are unique in that they are the subject of many generations of folklore and legend. Shaped like the female and male genitalia, these rocks have some giggling and others staring in wonder at them. People travel far and wide to see firsthand if what people say is true. Not only do these rocks strangely resemble the male and female genitalia, but they lay beside each other, almost like silent lovers on the beach.
Legend says that Grandmother and Grandfather, known locally as Yai Riem and Ta Kreng, had a son and together lived in Nakhon Sri Thammarat, a Southern Thai province. They decided when their son came of age that he should marry and chose a wife for him, daughter of Ta Monglay, who lived 400km north in Prachuap Khiri Khan. The young couple then went off on a boat to consummate their marriage, but were drowned at sea. Legend then says that they were washed ashore and turned into rocks.
As well as a lovely beach this attraction is close to souvenir shops and stalls selling soft drinks and snacks including the delicious local Thai sweet called 'galamae'. Parking is convenient but chargeable and there is no entrance fee for observing the rocks.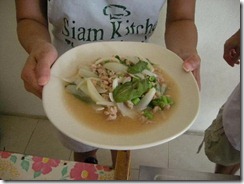 If you have a love for Thai food and have always wondered how Thai people create and recreate such wonderful flavoursome dishes then the Siam Kitchen is a must. Here you will get the opportunity to learn from the best, cook yourself, and then eat what you make. You will learn to cook 4 dishes including an appetizer, salad/noodle, soup/curry, and main course or desert.
During your cooking class you will learn the secrets of traditional Thai cuisine and how they use vegetables, herbs and seasoning to flavour their dishes. You will also have freedom of choice as you can pick your own menu choice from a large selection, or indeed a dish you know that is not on the list! What better way to spend a morning or afternoon away from the beach!
Included in the cooking class is a tour of the local fresh market and a certificate of achievement upon completion. Two classes run per day including lunch from 10:00 until 13:00 and dinner which is from 16:00 until 19:00. Classes run every day except Saturday. Siam Kitchen is based in Lamai Beach in Koh Samui.
Do not miss this inspiring experience in Koh Samui. Thailand. Siam Kitchen is rate #1 of attractions in Lamai Beach on Tripadvisor and the reviews clearly describe this place as a gem and definitely worth a try! After your cooking course at Siam Kitchen you will be able to practice your new skills on your loved ones at home!
3. Samui Institute of Thai Culinary Arts
Chefs and restaurant owners worldwide flock to the Samui Institute of Thai Culinary Arts in order to learn new necessary skills in cooking Thai food. An excellent renowned cooking school situated in tropical paradise is very appealing to many amateurs and chefs alike. Some come primarily for a holiday and fancy taking a short cookery class as a break from the beach, and others come for an intensive 6 day or 12 day course. Whatever cookery experience you are looking for the Samui Institute of Thai Culinary Arts is sure to appease.
At the Samui Institute of Thai Culinary Arts you are guaranteed to be taught by excellent cookery instructors in very equipped and comfortable surroundings. You will get your own burner and pan facing the instructor when learning to cook that sumptuous Thai dish. Once you have cooked that wonderful four course meal, you and a friend can enjoy it in their elegant dining room. What better way to show off your new found cooking skills?! There is a different menu each day so you can choose to have your cookery lesson on the day with the most appealing food.
As well as cookery courses, there is also a fruit carving course which offers you the opportunity to learn how to carve magnificent creations out of fruit and vegetables such as cantaloupe melon, watermelon, carrots, cucumbers and tomatoes. This is a wonderful course for that authentic look to your Thai dish, or even for just a bit of fun. There is a nine hour course over three days or for those with limited time there is a one day course. Whichever course you do you get to take home a carving tool and if you stay for the full three day course then you also get to take home a very useful and colourful instructional booklet and a souvenir apron.
Official website: http://www.sitca.net/
Video: YouTube: Samui Institute of Thai Culinary Arts
4. Big Buddha Temple (Wat Phra Yai)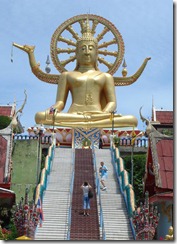 Most of us are familiar with the stone coloured statues that grace our cities and towns. Our eyes have become accustomed to such landmarks on the horizon, even large ones like the Eiffel Tower and the Statue of Liberty. However, when you first catch a glimpse of the very large gold coloured Buddha on the horizon you may be forgiven for forgetting to take your next breath. It is a solid but ornate masterpiece that somehow manages to shock and inspire those from the Western World.
Should you ascend the grand staircase to the top then you will be treated with magnificent views across the water to Koh Phangan where they hold the full moon parties. The 12 metre Big Buddha Temple was built in 1972 and is viewable from the air and from several kilometres away. It is located on an island in the Northeast of Samui near the airport. Several shops and restaurants surround the base of the temple and are popular with both tourists and Buddhists.
Those who visit the island will enjoy the experience of the fish spa where you can wade in the water while the fish clean your feet. You needn't visit a beauty salon to clear your feet of dead skin cells, as the fish will do it for you.
Flowers and yellow candles can be placed by the mini Buddhas to encourage good health and whatever else your wish is. Let your dreams become a reality and have faith in Big Buddha. Once you have visited Wat Phra Yai you will feel invigorated and somehow a little more at peace with the world.
5. Samui Boat Charter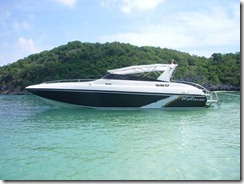 Have you ever dreamed of sailing across turquoise waters with the one your love? Perhaps you have no destination and are free spirits gliding over the sea. Or perhaps you dream of a deserted island where you can wade in the water and pick pineapples for lunch. However when you think a little harder then reality always gets in the way. Boats need a lot of maintenance and cost a lot of money to keep running as well as of course the cost of buying one in the first place! Also if you have never driven a power boat, yacht, or sail boat then the prospect may fill you with fear and not peaceful harmony at all.
That's where Samui Boat Charter can be the answer to your dreams. Samui Boat Charter organise and provide private speedboat charters, luxury private yachts, sailing boats, sunset cruises, scuba diving boats, and big game fishing tours. They can whisk you off to a variety of attractions and events including the Angthong National Marine Park for fabulous views and kayaking, to Koh Tao for a snorkelling adventure, or even to the notorious full moon party in Koh Phangan!
With Samui Boat Charter you can feel confident that you will receive first class service that will meet and surpass your expectations however high they are. The crew on board are English speaking and are expertly trained to give you a safe and professional experience. Samui Boat Charter will do the hard work, while you spend your time fulfilling your dreams….
6. Butterfly Garden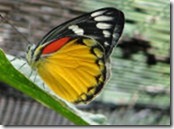 In the Butterfly Garden you can marvel at the variety of species of butterfly as well as the magnificent colour of their wings. Such fragile and delicate creatures peacefully and gracefully flutter around the Butterfly Garden almost oblivious to the people around them. They seem content in their beautiful tropical environment and seem happy to share it with the people who come visit it.
It is not only butterflies that inhabit this beauty spot but also a bee hive which is a Thai style bee house where you can observe the bees working hard. There is also a museum where you can see rare insects from Thailand, and all over the world.
The Na Tian Butterfly Garden is a family friendly attraction and is located at the bottom of a hill at the south-east end of the island. Opening hours are from 8.30 am to 5.30 pm.
Note: be careful not to confuse with Phuket butterfly garden.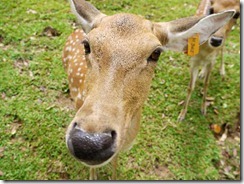 Paradise Park Farm promises a lovely and affordable day out for all the family and delivers in every way. Here you can enjoy direct contact with the birds and animals whilst marveling at the tropical paradise that surrounds you. Here too can you enjoy good food in the restaurant and even take a dip in the breathtaking infinity pool. What better way to enjoy your day away from the beach than cooling off at the Paradise Park Farm?
Here you can witness and interact with monkeys, deer and rabbits just to name a few. They are let out during the day so that visitors can come in close contact and even feed them. The animals at Paradise Park Farm enjoy a spacious 20 acres of land and their happiness is evident.
Paradise Park Farm was once a bird zoo and still boasts hundreds of varying species of bird including parrots, macaws, and parakeets. If you're lucky you may even get spoken to in Thai or English by Molly or Mommaem, the two resident parrots.
When you have fed the animals and marveled at their strange characteristics then you can cool off in the infinity pool with panoramic views beyond. There are numerous sun loungers and parasols surrounding the pool should you wish to catch some rays in the afternoon sun. When you fancy a bite to eat the tempting food of the Paradise Park Farm restaurant will surely satisfy.
217/3 Moo 1, Talingngam, Koh Samui, Suratthani 84140
Mobile 086 063 3318, 081 255 1222
8. Samui Snake Farm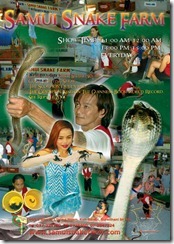 The Samui Snake Farm is located in the south-west corner of Koh Samui and is a secret delight for many who dare to visit. The Samui Snake Farm may be small in size but is very large in essence as it wows its visitors with its snakes and crocodiles and the famous Samui Snake Farm Animal Show. The Samui Snake Farm is even in the Guinness Book of World Records for "The Longest Stay with Scorpions" and "The Longest Stay with Centipedes".
The Samui Snake Farm Animal Show includes cock fighting, snake charming, pythons, the cobra show and even a chance to handle a few harmless snakes yourself. These shows run at 11am and 2pm daily and will wow you and gross you out all in a short space of time! The show is very informative as well as entertaining. A great family day out for all looking for a little bit of excitement or just fancy doing something a little different in their holiday in Thailand.
9. Samui Crocodile Farm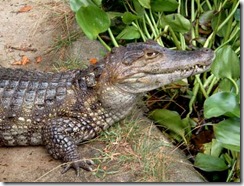 Have you ever come close to a crocodile before? Perhaps you think you don't need to as you have seen so many on those wildlife shows on television? When you come face to face with a real crocodile you realize just how intimidating they really are. There is a good reason why they are the topic of many scary songs and stories!
The Samui Crocodile Farm lies in a tropical palm garden with over 8000sqm of land for these crawling giants. Here the crocodiles bathe in the manmade pools and wait for their next meal to appear. Here the crocodiles are protected from poachers and are predators and never prey. These crocodiles fear nothing!
Crocodile and Snake shows take place every hour from 12pm to 5pm and are designed to both shock and disturb you. Don't try this at home! This show is not only exciting but also surprisingly informative too.
The Samui Crocodile Farm is located southeast of the airport on the road between Chaweng and Big Buddha Beach. Cost of entry is 250 baht per person for unlimited stay. If you pay a little extra then you get the opportunity to feed the crocodiles – usually a chicken on a rope.
10. The Namuang Waterfall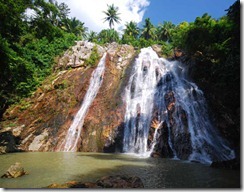 The Namuang Waterfalls are simply magnificent and for that reason they are arguably the most popular waterfalls on Samui. Tourists flock here to see the naturally occurring beauty of Namuang. This is the place of divine inspiration and soul cleansing. Here you will feel at one with the world whilst the energy of the waterfall surrounds and envelops you.
Located 10km south from Nathon at Ban Thurian, lies the breathtaking Namuang Waterfalls. Here you will find two beautiful waterfalls- Na Muang and Namuang 2. Namuang Waterfall is 18m high and can be reached by vehicle and Namuang 2 requires a short trek or elephant ride to get to it. Namuang 2 is about 80m high and well worth the effort. Don't forget to bring your camera!
Namuang (meaning purple in Thai) consists of gigantic purple rocks blessed with cascading water leading to a natural pool at the bottom. This pool is always refreshingly cool and perfect for a dip after a long hot day. A combination of shade and the flow of the mountain stream mean this water is always icy cold and guaranteed to awaken the senses!
In the car parking area are a variety of stalls selling souvenirs as well as authentic Thai food at affordable prices. The perfect end to a perfect day at Namuang Waterfalls.
11. Thai Boxing (Muay Thai)
If you fancy a little excitement away from the beach then take a trip to Chaweng Stadium and be witness to Thailand's national sport, Thai Boxing (Muang Thai). As well as Chaweng Stadium there is also the newer Phatchabuncha Stadium near Laem Din market. Here you can see the world's most dangerous sport in action whilst being in the midst of a thriving atmosphere with live commentary and traditional Thai music. Both foreign and Thai fighters compete in the ring to be the best fighter in the world. This competitive energy is not only entertaining but mildly addictive and surprisingly graceful.
The major fights on Koh Samui are held at the Chaweng stadium near the Reggae. Fights are usually held on Monday and Friday nights with an occasional additional Sunday night in peak season. Fights usually start at 9pm with the main event usually on about 10/10.30pm. The evening normally lasts around three hours including as many as ten smaller bouts before the main fight. An entry fee is charged depending on whether you have a ringside table or a seat in the surrounding stands. Fights are well advertised both with flyers and vehicles circling the island with loudspeaker announcements.